Experience Premium Cannabis
Our Team
A strong, tight-knit team of diverse individuals who are dedicated to producing quality THC and CBD products in Nevada. 
Experience Premium Cannabis takes pride in the unheard-of level of diversity of our team, starting at the top. Both the officers running our company and our head of extraction are females. This is exceedingly rare in a cannabis production company. Moreover, everyone in our company is female, a person of color, or over 55 years old (or some combination of those). Additionally, 20% of our team is LGBTQ+.
Favorite Product: "The Golden Mylk CBD is just delicious and it's so good for you. CBD helps to alleviate my headaches or any other pains I might experience – it's awesome. I also really like smelling the Breathe Easy tincture!"
What Her Day Looks Like: Bea spends her days refining and distilling solventless oil for EPC's tinctures. Additionally, she spends countless hours making big batches of them, maintaining all extraction and refinement equipment, researching cannabinoids and terpenes, R&Ding new products for EPC's line or partner products, rolling temple balls from ice water hash, or pinch-hitting on order fulfillment. But that's not all. Frequently, Bea appears on our podcast Soul D'Licious Infused to help with our "Cannabis Science" segment. Despite being a bit bashful about her level of skill and talent, the truth is she's a whiz at this stuff and she loves to share her knowledge with the world.
What She Loves About EPC: "I like the staff here – everyone is willing to help out with everything – and I also love that our brand is earth-friendly (including the packaging). I also like the variety – every day is different and I get to experiment with new products and innovate. It involves a lot of problem-solving, trying things, and coming up with better alternatives if they don't work."
Melinda Brown
Sales Director & NV Account Rep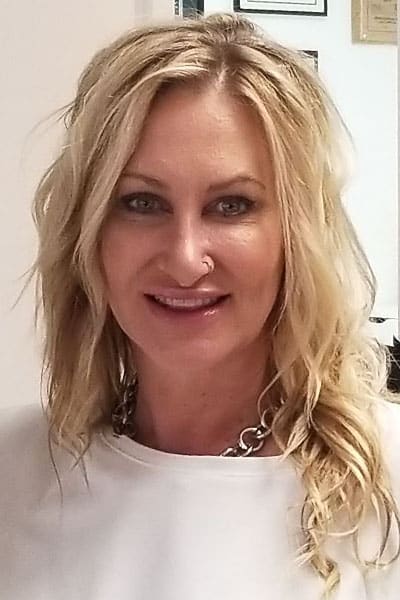 Favorite Product: "It's difficult to narrow it down, but the vast assortment of wellness tinctures are my favorite! Not only do they have good quality essential oils in them, but they also taste good too. In fact, some of the really specialized tinctures are packed full of flavors and aromas. Additionally and most importantly, they are also highly effective. I can attest to that from personal use."
What Her Day Looks Like: Melinda is responsible for developing new accounts, strengthening existing relationships with Nevada dispensaries, and spearheading statewide initiatives. This boils down to a lot of intelligent listening – to dispensary clients (owners and staff), to consumer feedback, and to industry trends overall. These conversations take place at promotional events Melinda runs at dispensaries for the brand, as well as by phone and e-mail, and in-person visits with purchasing managers of local cannabis retailers.
What She Loves About EPC: "I love that EPC is an eco-friendly company that uses high-quality ingredients in all its products. For example, our hash packaging grows flowers when it is planted in soil! How cool is that?!?"
Chris Thompson
Brand Ambassador
Favorite Product: "The Breathe Easy tincture is my favorite because my allergies are horrible, especially when things are in bloom. This tincture is one way to give me the relief I need and restores my ability to breath properly."
What His Day Looks Like: No two days are exactly the same for Christopher. He might be at a dispensary, he might be at our facility learning how to repair light fixtures, or he may be packaging non-infused product samples. His primary focus is running "pop-ups" at cannabis dispensaries all over Southern Nevada – standing at a table talking to shoppers about EPC's product line and answering questions they may have.
What He Loves About EPC: "My favorite part about working for Experience Premium Cannabis is the many different roles I get to play. I love doing pop-ups at the dispensaries where our products are available for purchase because I get to talk with people and raise awareness about the different unique and craft products we offer. While working in the production facility I get to see how everything is made, as well as ask any questions about the process to better inform people when I see them at a pop-up."
Kris Johnson
Head of HR & Administration
Favorite Product: "Good Night. It was fun helping to develop it, taking the great cannabinoid CBN and making it even better by adding full-spectrum essential oils."
What Her Day Looks Like: Kris can be found at the lab boxing orders for delivery and QC'ing them before shipment, working remotely on benefits administration, writing up product information, developing new product formulations, updating SOPs, buying supplies, and more. She's the essential oils expert on our team and played a key role in formulating many of our tinctures that combine top-shelf plant-based extracts with cannabis for maximum effect. Kris manages HR, order fulfillment, purchasing, compliance, and facility layout.
What She Loves About EPC: "I love the people, culture, and working with a small group of people who are smart, hard-working, and fun. It's great to be part of a company I know is making a difference in people's health and well-being."
Shermaine Villanueva
Production Lead
Favorite Product: "My favorite product is the Breathe Easy tincture. I give it to my dog, who is old, and it helps with his respiratory illness and helps him sleep. He coughs less because of it and it has clearly helped to improve his standard of living. Like many pet owners, I'm happy to have the powerful healing benefits of CBD at my disposal. And nothing compares to the quality of the Experience Premium Cannabis tinctures. I highly recommend them for both people and pets."
What Her Day Looks Like: Shermaine is the best and fastest team member when it comes to packaging, so chances are that if you have some of our tinctures, she personally packaged them! Under the tutelage of our chemist Bea Martinez, Shermaine also learned how to make the EPC tincture batches.
What She Loves About EPC: "It's just a really good environment to be in – it's fast-paced and there is always something to do. Plus, I enjoy working with all of my amazing EPC co-workers."
Linda Pollack
Test Kitchen Manager
Favorite Product: "Golden Mylk 1:1 and CBD versions. I like the CBD version for work and the 1:1 at other times. It's delicious and when you have discomfort it really makes a difference."
What Her Day Looks Like: Linda is working on a brand-new product set for EPC of a special line of edible products. This entails finding the right ingredients, trying different recipes for taste and shelf-stability, honing production techniques, working with our essential oils expert and chemist on the medicinal formulations, and teaching the EPC team how to make the final product.
What She Loves About EPC: "We use top quality products – not junk. You don't have to worry about what you are getting with our products. The line is really well done."
Chuck Pollack
Operations & Packaging
Favorite Product: "I take the EPC 20:1 CBD/THC Tincture every day because it relieves my pain and helps to make the day flow easier."
What His Day Looks Like: On any given day you might find Chuck on the road picking up shipping boxes from our supplier or stickers from our local printer. Additionally, you may spot Chuck filling our various tincture bottles, taking inventory, or boxing up orders for our variety of dispensary customers.
What He Loves About EPC: "The fact that we create a quality product always makes me feel great. I can feel proud when I see Experience Premium Cannabis products in dispensaries because it's first-class stuff. No one else in Nevada can duplicate them and I had a part in making them!"
Tim Rieb
Hash Maker & Chocolate Tech.
Favorite Product: "The Good Night tincture is my favorite EPC product. Nothing compares to it. It really helps people sleep through the night."
What His Day Looks Like: As our solventless ice water hash maker, Tim spends a chunk of his time in a very cold room turning premium cannabis flower into bubble hash with the aid of special equipment, ice, water, and gentle agitation to separate the trichome heads from the rest of the plant matter. When he is not doing that, he's assisting with bottling and packaging of tinctures by the hundreds.
What He Loves About EPC: "I love working here! I came in here knowing nothing about extraction and I've had the chance to learn SO much. The people are cool AND I enjoy the work."